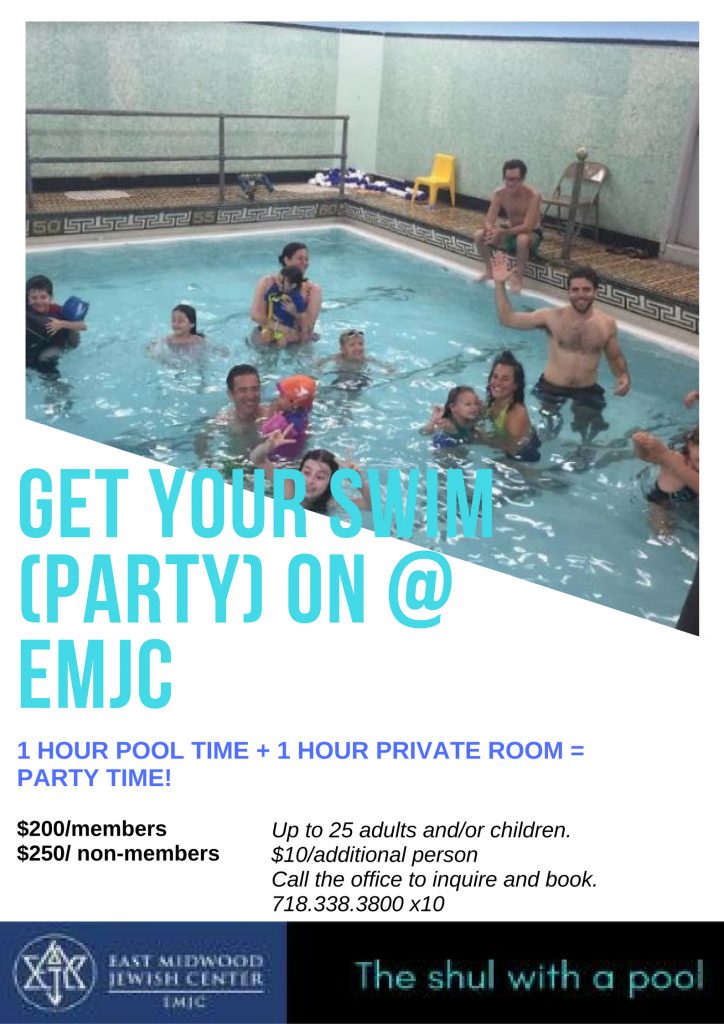 Updated 8.1.18
Scroll down for contact info and answers to frequently asked questions.
THERE WILL BE NO EMJC MORNING SWIM SESSIONS (MONDAY – FRIDAY, 9AM – 4PM) (THEY WILL RESUME IN SEPTEMBER).
SUNDAYS
9:00 am – 2:00 pm – Swim Koi Class
3:00 pm – 5:00 pm – Family swim
5:00 pm – 7:00 pm – Women only swim
7:00 pm – 9:00 pm – Men only swim

MONDAYS
5:00 pm – 7:00 pm – Swim Koi Class
7:00 pm – 10:00 pm – Family swim

TUESDAYS
6:00 pm – 8:00 pm – Family Swim
8:00 pm – 10:00 pm – Women only swim
WEDNESDAYS
OPEN FOR PRIVATE RESERVATIONS
FROM 6-11PM
THURSDAYS
6:00 pm – 8:00 pm – Family swim
8:00 pm – 10:00 pm – Men only swim
FRIDAYS
4:30 pm – 7:30 pm – Swim Koi Class
COSTS: FAMILY SWIM, CO-ED SWIM, WOMEN ONLY OR MEN ONLY SWIM [PAY EAST MIDWOOD JEWISH CENTER]
Free for East Midwood Jewish Center Members or $12.00 per session, per person for non-members – payment can be made upon arrival in building lobby or office
Monthly Passes for Non-Members: $60 for Individuals. Family Pass for $90/month for parents & 1-2 children; each additional child $10 extra
(for first-time monthly pass purchasers, bring photo ID. Passes can be renewed & are by calendar month only, such as Feb. 1-28, Mar. 1-31, etc.)
CLASS & LESSON CONTACT INFO: TO ASK ABOUT REGISTRATION & COSTS
Swim Koi: sfrazier.swimkoi@gmail.com, swimkoiemjc@gmail.com or 347-562-3924 (open Sundays 9am-2pm and Mondays 430-630pm)
Harriet Rhine: 646-670-0822 or hrhine165@gmail.com
Swim 1 2 3: Luda 917-608-7848
POOL RULES: All swimmers must wear bathing caps and flip flops.  No street shoes allowed.
TO RESERVE A LOCKER, RESERVE FOR A PRIVATE EVENT, OR JOIN OUR E-MAIL LIST: info@emjc.org or 718.338.3800
ANSWERS TO FREQUENTLY ASKED QUESTIONS
Payment to East Midwood Jewish Center: can be accepted by cash, check or credit card (for women, men, co-ed and family swim)
Classes: Payment, registration and questions about classes should be coordinated through the above contact info (class and lesson contact info).
All the above classes and lessons use our pool (some at times scheduled above, others by appointment), but please contact them directly to sign up.
Updates: By the beginning of every month, our updated pool schedule is posted at emjc.org, in our lobby and emailed to our swimmers email list
(contact info@emjc.org to join the email list).  When unforeseen circumstances (such as maintenance) come up, we email our swimmers list and post signage to notify pool users.
Lifeguard is on duty at above times. We have locker rooms with showers for men & women (but bring your own lock if you'd like to lock your locker).
Pool Size 60 feet by 20 feet. Pool Depth 3 feet to 9 feet. Temperature of pool is maintained in mid-80s (degrees Fahrenheit). Children under 16 must be accompanied by an adult. In addition to women only & men only times, women & men can swim together during family & co-ed swim times.