April 23, 2021
In this message:
Earth Day wrap-up
Acosta Molina family – how we can help!
   -donations of money (EMJC fund established)
   -teachers/tutors for the girls
General wrap-up
Special Shabbat video!
Yesterday was the 51st annual Earth Day celebration. Earth Day was established in 1970 and since that time has been a day when the world's focus turns to environmental protection, stewardship of the earth, and our general responsibility to pass on a sound planet to those who come after us. You may have read Sally Hipscher's summary of last week's "Earth Day Shabbat" in yesterday's newsletter, where we invited Dr. Ed Kopf to address the congregation about the Jewish perspective on environmental stewardship (many thanks to Murray Lantner for advocating for and arranging the speaker). I would say that the overarching message was: care for the earth is not someone else's business; it's all of our business. Also, the time is not later; the time is now.
This falls into the category of "rules to live by." Sally quoted the famous passage from Pirkei Avot (The Ethics of the Sages), attributed to Rabbi Tarfon: It is not your duty to finish the work, but neither are you at liberty to neglect it (2:6). Each of us has a role to play, however small it may feel. The famous Israeli Chanukah song says kol echad hu or katan, vechulanu or eitan – each one of us (individually) is a small light, but together, we make a great light!
This is true, too, with regard to the Acosta-Molinas, the asylum-seeking family from Honduras that we have been partnering with. As I mentioned last week, Misael, Katy, Nicol, and Madaì have arrived in Queens and are happily getting their New York sea-legs. And now is the time that they could most use our assistance. Murray Lantner and the Lantner family, as well as some others, in a great act of tzedakah, donated all the furniture and kitchen supplies they needed, and Murray rented a truck to transport it all up to Queens last week. Misael (dad) came to EMJC (where we were storing the furniture) and got a tour of the synagogue with help from Sally and Mike Hipscher, Ben Lapidus acting as translator, and of course Debbie Nathan, who is responsible for getting the family here from the other side of the Mexican border. After that, Murray and Misael loaded up the truck and drove to Queens.
So now we are putting out the call to the rest of our community. What the family could use right now is some financial support until they get on their feet, get their work papers sorted out, etc. Folks from the Jewish communities in Austin and El Paso have also stepped up – they've committed to getting 50 people to make a recurring monthly donation of $18 for the period of six months. If we can do something similar, it would go a long way to helping them with rent, food, clothing, school supplies – all the basic necessities. Again, each one of us (individually) is a small light, but together, we make a great light!
Many of us have family stories like this – ancestors who came to the United States with a few dollars in their pockets who were then helped by others – individuals, organizations like HIAS, synagogues, Jewish centers. Many of our own families' stories started off just like Misael, Katy, Nicol, and Madaì's. The prospect of paying back into that system in such a direct way is deeply meaningful to me, and I hope that a good number of us will feel the same way. Needless to say, if $18 a month seems like a stretch, any amount would be helpful, in either a monthly donation or a one-time donation. We have established a fund at EMJC to handle donations – please make arrangements through the synagogue website or through the office.
Also, we are looking for Spanish-speaking tutors to work with Nicol and Madaì (ages 4 and 6). They are exceptionally bright but are well behind in their schooling due to the unimaginable circumstances they endured as victims of the former administration's "Remain in Mexico" policy. We have one excellent volunteer and are looking for a few more. Ideally, we'd be able to get them something like an hour a day of Zoom tutoring/English-play time (shared by a number of tutors taking once-a-week shifts or so). If you know anyone who might fit the bill, please let me know – of course this is not restricted to EMJC members.
One more thing about the family: this Shabbat, we'll get a chance to meet them in person (over Zoom)! Katy and the girls will join us for the very end of the service and then will spend a little time after kiddush telling us their story and answering any questions we may have, so please join us for that. There's a beautiful picture of the family below.
There are other things to say about the week that has passed. The Derek Chauvin trial wrapped up with a satisfactory conclusion. I don't really know what to say about it – it's very meaningful for George Floyd's family, of course, but I'm not sure what meaning it has beyond that. It does not strike me as a societal shift of any kind. It's a subject that I hope our whole community can dig in to over the next year. This is the conversation.
Tom Kraner will be delivering the d'var torah tomorrow – it is the anniversary of his bar mitzvah and he was eager to be able to address the congregation – I look forward both to hearing him chant and speak! Next week, we have the (actual) bat mitzvah of Room J stalwart Neena Mushlin. I hope you'll join us for that exciting event too as we wish mazal tov to the Mushlin/Abraham family.
And lastly, I present you with a Shabbat treat. Aliza Avital composed a beautiful melody for the Kabbalat Shabbat hymn L'kha Dodi. She and I made an iPhone video-recording of it to submit to the Cantors Assembly for their "L'kha Dodi Omer Challenge" – a project seeking to compile an extensive library of renditions and performances of Lecha Dodi. It's really nice – have a listen to get into the Shabbat mood!
I wish you all a Shabbat shalom um'vorach – a peaceful and blessed Shabbat,
Rabbi Sam Levine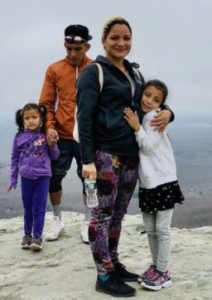 Madaì, Misael, Katy, and Nicol