When:
Sunday, March 19, 2023,
4:30 pm - 6:30 pm
Location:
East Midwood Jewish Center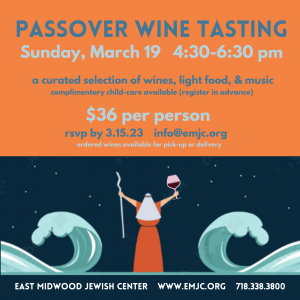 Passover Wine Tasting
Sunday, March 19
4:30 pm – 6:30 pm
$36/person
It's not every night we're told to drink four cups of wine. Whether you're a seder guest or a seder host, make those glasses special!
Scotto's Wine Cellar on Court Street is again providing a delicious selection of Passover wines for sampling. We'll pair them with the usual nibbles — cheese, crackers, fruit — and plan to end the evening with some Israeli fare prepared by Joseph & Emily Pariente.
You'll be able to order the wines you like, and well in advance of Passover, take delivery or pick-up at EMJC. The first seder is Wednesday, April 5.
We hope you'll join us in the Grand Ballroom. All proceeds will go towards the courtyard overhead ceiling project. Your brisket deserves delicious wine!