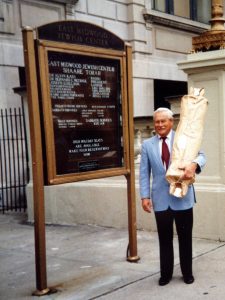 The East Midwood Jewish Center in Brooklyn, New York, which was founded in 1924, is proud to be the custodian of the Czech Memorial Scroll known as MST#883. This Torah scroll was written in 1890, in the town of Luze, in East Bohemia (now the Czech Republic, then part of the Austria-Hungarian Empire). Jews had lived in this town since 1620 and at one time 182 Jewish families resided there in a locked ghetto, but they were allowed to build and worship in their own synagogue. 
Three centuries later, in the 1940s, the Jewish residents were forced out or murdered, and this Torah was desecrated by the Nazis, who transferred it, together with a large collection of synagogue artifacts confiscated from all over Bohemia and Moravia, to the Jewish Museum in Prague. There they were carefully labelled and prepared for storage by the Jewish Museum's staff in Prague, very few of whom survived the Shoah. For many years it was thought the Nazis intended to create a "Museum of an Extinct Race," but some historian now believe the Judaica was saved due to a plan of the Jewish community.

After the war, as there were no longer Jewish communities able to restore, use or display the Torahs, they were placed under the control of the Czech government. In 1963 the scrolls were acquired by Ralph Yablon, a member of London 's Westminster Synagogue, which took responsibility for 1564 saved scrolls. A year later they arrived at Kent House in Knightsbridge, the home of the congregation, where they were eventually restored for use, or transferred to others for memorial displays. The Memorial Scrolls Trust, www.memorialscrollstrust.org, was set up to care for and allocate the scrolls around the world.
Thanks to the efforts of Dr. Bernard and Mrs. Irene Metrick, MST #883 was donated on permanent loan to the East Midwood Jewish Center and was dedicated on November 6, 1988 on the 50th anniversary of Kristallnacht at a special ceremony. Our Czech Torah is displayed in glass case in our lobby and its story is detailed in maps, pictures and text.