The Israeli Holidays at EMJC
The two weeks that follow Passover are a time of deep reflection in Israel and throughout the Jewish world. This coming week, we commemorate the Holocaust on Yom HaShoah v'haG'vurah – Holocaust and Heroism Remembrance Day. The following week, on Tuesday, we observe Yom HaZikaron, Israeli Remembrance Day. The next day, mourning turns into celebration with Yom HaAtzma'ut festivities celebrating Israeli Independence.
Here are the details for the coming week's observances for Yom HaShoah v'haG'vurah. Keep an eye out this week for information about the following week's events. For most of these events, EMJC will be partnering with our Brooklyn Jewish community partners in a show of unity and solidarity.
Ideally, you will be able to join in-person for these events. As we continue to try to get people back into public spaces, your presence will be greatly appreciated. If you are not able to join in-person, there are alternatives available (Zoom and streaming) for all events except for the Yom HaAtzma'ut celebration.
We are particularly eager to have families attend the Yom HaShoah commemoration at EMJC. It is so important for kids (older kids in particular) to come into contact with survivors, feel their presence, and hear their stories. The service will be relatively brief (about an hour).
The film on Tuesday night was described to me as being "incredibly moving." It features a lineup of Israeli stars, influencers, and thinkers as they tour the concentration and death camps in Poland. A discussion with the director will follow.
We hope to see you at both of these events.
In the meantime, I wish you all a Shabbat shalom um'vorach – a peaceful and blessed Shabbat.
Rabbi Sam Levine
1. Yom HaShoah v'haG'vurah Commemoration (Hybrid)
Monday, April 17, 7:30 PM
EMJC, Beit Hamidrash (first floor)
For Zoom, use the evening service link
We will join together with Madison Jewish Center for a ceremony commemorating Yom HaShoah v'haG'vurah – Holocaust and Heroism Remembrance Day. Join Rabbi Sam Levine, Cantor Leslie Rimer, survivors, and children of survivors for an evening of prayer, song, and ritual. EMJC member Shereen Rosenthal will Zoom in with a report from Poland, where she is participating in the March of the Living. We strongly encourage older children to attend.
2. Yom HaShoah Film – Questions of Life and Death (Zoom)
Tuesday, April 18, 7:00 PM
Screening (on Zoom) and conversation with the director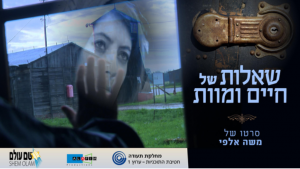 The film is in Hebrew with English subtitles.
A documentary that follows a group of Israeli influencers and celebrities as they tour the camps in Poland, guided by Avraham Kriger from "Shem Olam" institute. The film brings a new way of looking at the harsh reality of the holocaust while sparking questions and new thinking.

Which memory from the Holocaust will be left for the next generations? What happens when god stands trial by the second generation of Treblinka survivors? What in the camps can be meaningful even for those who didn't experience them? And how can Israel apologize for the way survivors were treated when they first arrived in Israel? These are only some of the questions that come up as the tour goes on. 

Participating in the film: Yehoram G'aon (singer), Yona Elian (actress), Esti Zakheim (actress and activist), Prof. Sami Samocha, Emuna Alon (writer), Dr. Eliyahu Vinograd z"l (former Judge), Dubi Einchold (book editor), and more.

There will be a discussion and Q&A with the director, Moshe Alafi, after the screening.