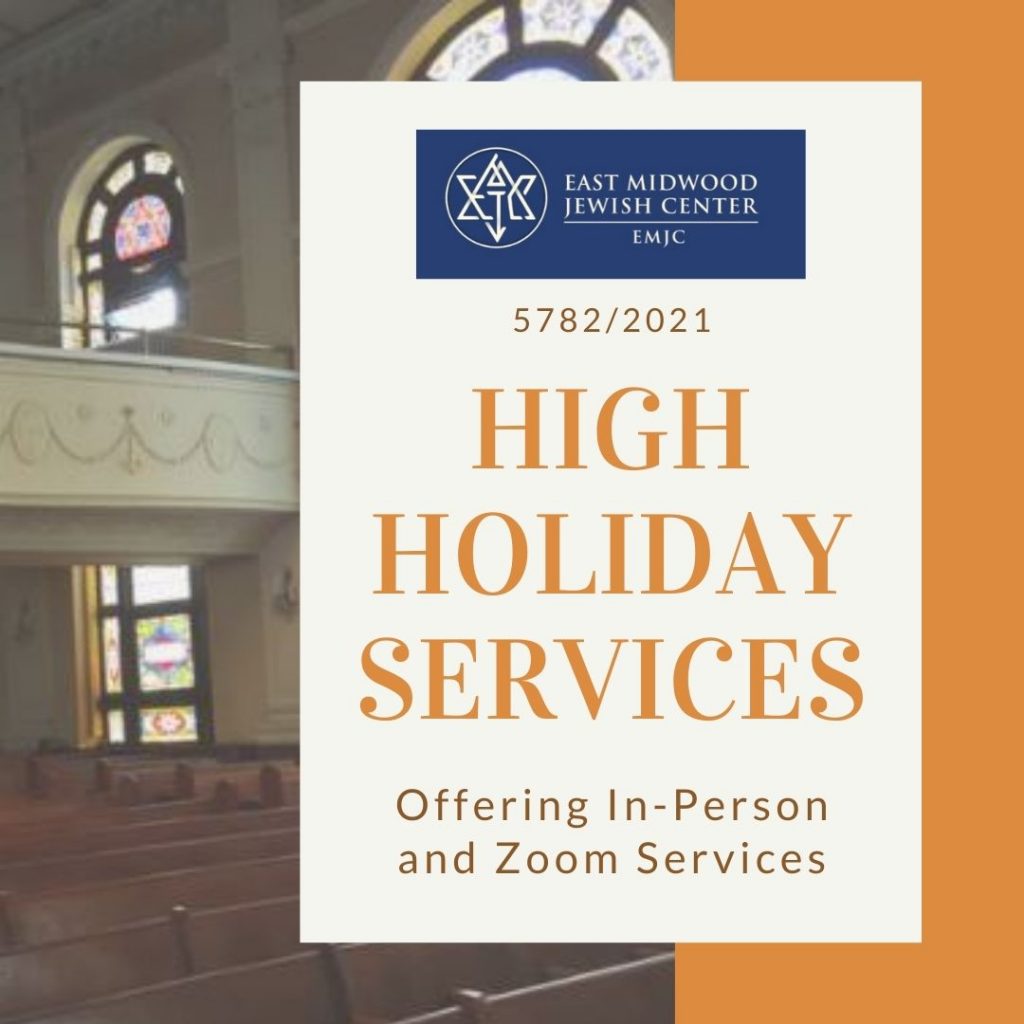 To attend in-person services in the EMJC sanctuary, you MUST be fully vaccinated against COVID-19 and able to provide proof of vaccination (either by COVID Vaccination Record Card or Excelsior pass). Anyone not vaccinated, including children, will not be allowed into the sanctuary. Children's services will be available outdoors (information about children's services will be sent separately).
When you purchase your tickets, please provide names and vaccination proof for everyone attending with you. Vaccination status must be verified by providing a clear scan or photo of a CDC vaccination card or Excelsior Pass documentation. To submit your proof of vaccination, please email a scan/photo of your document(s) to info@emjc.org. We will review and confirm by email.
Update on This Year's Family Programming
 We hope you'll join us for family programming in the courtyard. Early childhood educator Joanne Riel will return to EMJC to lead a lively program that focuses on the themes of RH and YK, little-kid style (babes-age five or so). There'll be story, song, and interactive play. Joanne will be setting up around 9:45 am. Her program will begin promptly at 10:00 and will run for thirty minutes. Please note: this is not a drop-off! Every child needs an adult escort.
At 10:35, we'll launch into our more formal Katan service. It's good for kids up to about age eight or nine. EMJC parents Becky Phillips and Murray Lantner will again be our primary facilitators. The service will go until 11:10. Again, this is not a drop-off!
At 11:15, we'll begin the older kids program. Room J teacher Gabrielle Linchner will be the facilitator. She'll wrap up at about noon.
We'll conclude with apples, honey, challah, and grape juice on both days of RH. And there'll be a shofar at some point (details tbd). Among other specifics, we're still figuring out the viability of a YK light lunch and whether we can hold some kind of courtyard tashlich on RH I. we're also hoping to create a very quiet play area on the other side of the courtyard so kids can remain nearby while programming that's not for them is taking place. We'll also have a Zoom-only plan in case some unforeseen circumstance prevents us from meeting face to face.
We're going to need a lot of adult hands on deck to ensure these three days go smoothly. We know many families face some head-scratching in terms of how to honor our protocols, meet the needs of their kids, and address personal desires to be in the Main Sanctuary. We hope your frustrations are dwarfed by our excitement around coming together and recognizing we're all doing the best we can.
Finally, please understand that by necessity, we've got to take a firm stance in the implementation of our safety guidelines. These are not the days for any kinds of mischief anywhere in the building or courtyard. There'll be BimBoms, holiday parties, and goofy fun on other days. But for Rosh Hashanah and Yom Kippur, we're committed to providing age-appropriate programming and keeping everyone safe. We're counting on everyone's support.
Lastly, family programming doesn't require tickets (but we'd be delighted for your rsvps). It's our hope that participating families will nonetheless make a donation to EMJC. We suggest a minimum of $50.00, if you can swing it.
Please help us meet our Kol Nidre Appeal goal!
Use the below form to submit names
for our Book of Remembrance.
Click on the image below to download a form,
Need tech support for online ordering and forms? Click here to email us!